Godfrey Tebandeke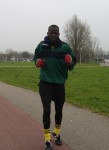 Teba kam 2005 nach Deutschland, um hier eigentlich professionell Fußball zu spielen. Anschließend zog er in die Niederlande, dort hat er dann auch geheiratet. Inzwischen wohnt er mit seiner Frau Elseline in England und arbeitet dort als selbstständiger Klempner. Immer wieder kehrt er nach Uganda zurück und koordiniert die Verteilung der gesammelten Spenden.
I am not the type of person who likes to blow my own trumpet, but those who know me especially in the areas of Kamwokya and Bukoto in Kampala, will tell you that I have always been a giver. I started giving at about age five. I guess this is what I saw my dad do. Later on my oldest brother, who was a professional and international footballer both in Uganda and Asia, also carried on my dad's legacy. I guess as humans we all can learn kindness and generosity. I like to think I come from a generous and kind family, even though we had limited resources.
Its always been my biggest prayer and dream, to be able to sponsor and help needy children, mainly using sports as a tool to unite them and reach them. Over the years, I have spent a lot of my own money on trying to help poor and needy families with school fees, and other basic human needs. This fills me with too much joy and satisfaction.
With the help of my friend Timm Barkam from Germany, we have for the past few years been able to distribute sportswear and equipment to so many children and youth. I got to know Timm when Dr. Peter Kreysing and his wife Dr. Meggy Kreysing and their four children Robert, Raphael, Leonie and Martin hosted me in early 2005 during my first time in Europe.
My dream is to see Tucheze International help change and transform the lives of many more people.
« gehe zu "Über Uns"